Skidography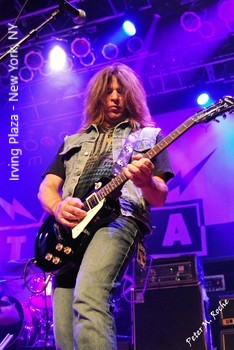 Vinnie Salvatore is a guitarist from Pittsburgh, PA, most recently with the Columbus, Ohio-based hard rock band, Rat Bastard Syndicate (since 2016), featuring Steve Theado and Keith Pickens. Theado, Pickens and Salvatore are former members of American Dog, a hard rock band fronted by ex-Salty Dog and Dangerous Toys bassist Michael Hannon. Vinnie appears with Rat Bastard Syndicate on Ignite (2017), Howler Monkey (2018), Reinforce (2019), Cock-a-Doodle-Do (2019), Black Looking Glass (2019), Häk Sabbath (2020) and a new, as-yet untitled album to be released soon.
Vinnie recorded and toured with American Dog during the final years of the band and appears on Neanderthal (2014) and Unfinished Business (2017). American Dog toured to support Neanderthal in the United States with Tesla and The Vegabonds - and in Europe with Blue Coupe, Lez Zeppelin and Skinny Molly.
From 2009 to 2013, Vinnie recorded and toured with The Godz, the American hard rock band fronted by the legendary Eric Moore. Vinnie juggled both guitar and bass guitar duties while a member of The Godz, who released a brand-new studio album, Last of the Outlaws, in 2012. Additionally, Vinnie appears on From the Vault Volumes 1 & 2 (2013). Also during 2012 and 2013, Salvatore filled in on guitar for Planet 9 to help the band meet its touring obligations while Ron Zingaro was on hiatus, including dates with American Dog and Suspect Earth.
 
---
Stuff You Don't Care About
Mr. Baxter was born and raised on planet Earth. Sometimes he eats meat, and sometimes he eats a salad. He prefers whole foods - like real dairy-butter, and avoids margarine, multi-vitamins, edible food-like substances (the western diet), and "anti-bacterial" soap. Some of his favorite musical artists include: Frank Zappa, Captain Beefheart, Alice Cooper, Alex Harvey,  Miles Davis, Junior Brown, Stravinsky, and Clutch. In 1995, Salvatore recorded the EP, Highway To Corn And Peanut Hell under the name "Skid Baxter" (a character created by Chris Crickard). Thus was born The Skid Baxter Project.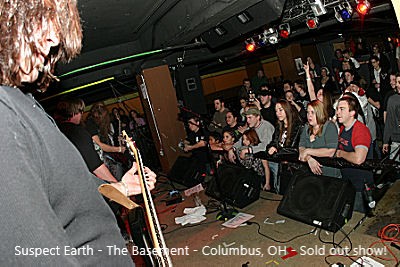 As one reviewer put it, "On the album, one can hear the Zappa influence distinctly, with the vocal asides and snippets of musique-concrete." Gentle Giant and Junior Brown had become an influence on him by this time. An EP titled SBP was recorded and released in 1997, featuring some songs that would later appear on No News From America. Avid Skid Baxter fans quickly devoured it. The conceptual No News From America was released in the Spring of 1999 and features several talented guests. Among them Chris Sutton, whose soulful guitar-playing graces four cuts, three of which include drummer - Tracy Spears. No News From America was digitally re-mixed and re-mastered in 2002.

Salvatore shared lead-guitar duties with Matt Venus in the prog-rock outfit, Logarhythm from 1999-2002, founded by multi-instrumentalist - Linda Dauwalder-Dachtyl (keys and piano); and included her husband, Cary (drums and percussion). "Raw Deal in Furniture" and "Donut Shop People" were among the Skid Baxter numbers featured in the band's set list. Salvatore and Linda Dachtyl would later play in the Walt James Band together, albeit on different instruments.

In 2001 Salvatore recorded and engineered the album, 7 ate 9 by Chris Sutton's band, Blue Cat Sky. He also mixed Sutton's Vance Lintlock album, The Return of Vance Lintlock in 2002; and played bass on the song, "Vandalia's Rising." In January 2003 Sutton teamed up with Mark "The Harp" to form C&S Railroad in Barboursville, West Virginia; with Salvatore producing their self-titled debut album in February. The C & S Railroad album features 14 of Sutton's dynamic mountain-blues originals, in which he explores the Delta and Piedmont styles.
Another Skid Baxter album, Tongue Tracks in Ice Cream was released in limited quantities in the fall of 2003. Once again Chris Sutton lent his guitar-wizardry to the mix and also sang lead vocals on "Too Big Dad." Matt Venus appears on three cuts including the instrumental "Frankz Furnace" on which he trades guitar-licks with Sutton. 
---
More Stuff You Don't Care About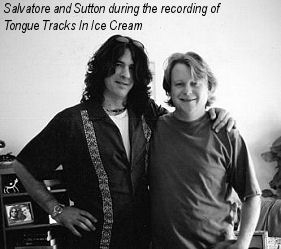 Salvatore also played bass in The Walt James Band (WJB), a power-trio based in Columbus, Ohio. featuring  Walt James on guitar and vocals and Linda Dauwalder-Dachtyl (a familiar face) on drums. Walt toured and recorded two albums with UFO bassist Pete Way, and also performed and recorded with Columbus, Ohio's notorious Lollipop Factory.
The Walt James Band recorded the much-acclaimed album - Arrival, released worldwide in 2003. In early 2005 Vinnie joined forces with the sleaze-rock band Sukus. Recording for their debut album began in September 2005 but it was not completed. A version of the album was released on the now defunct Sukus website entitled, Tales From The Majic Sack. During Vinnie's time in Sukus the band opened shows for American Dog, and in a bit of irony, played a show with both American Dog and The Godz, both of whom Vinnie would go on to record and tour with.
Meanwhile, the Skid Baxter Nowhere Space (EP) was recorded in 2006, with both Chris Sutton and Tracy Spears figuring prominently in the proceedings. It was around this time that Salvatore began a long stretch of recording & touring with a host of other artists, beginning with a three-year stint as bassist for Suspect Earth that saw the release of their album, Hard To Drag in 2007 on BoFi Recordings.
In 2009 Vinnie was a member of swamp-rockers, Danballah, a short-lived project fronted by Johnny Weils, former lead vocalist for the southern-metal band, Alabama Thunderpussy.
The year 2022 saw the release of the first new Skid Baxter music in quite some time, the aptly-titled Slumgullion.